---
Introduction
Free Shortcut Remover can scan your computer and list all the shortcuts within, marked with red crosses for broken ones and green ticks for valid ones. The shortcut filter can help you find exactly the shortcut you want by entering the whole or part of the name. Free Shortcut Remover also finds your recent history links linked to deleted documents, music or movies and removes them to protect your privacy.
Step 1. Scan Shortcuts
Launch Free Shortcut Remover and click "Scan Shortcuts" to choose the drive you want to scan. Click "OK" and the scan will start immediately.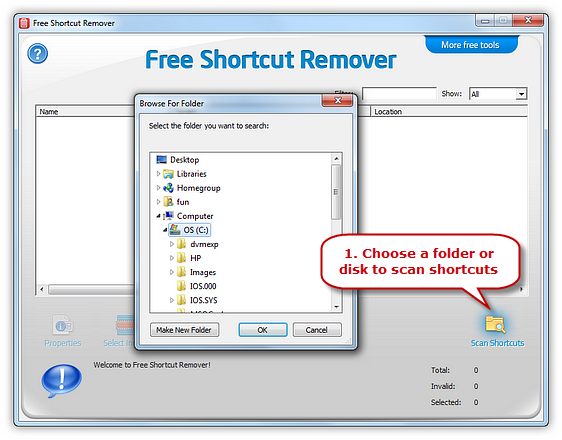 Step 2. Select Broken Shortcuts
The shortcut files found will be listed with info like name, target, location and other details. The program marks the broken shortcut (when the files it is linking to is missing) with a red cross so you can spot it easily and solve the problem. Click "Select invalid" to select all the broken shortcuts. If you want to deselect the shortcuts, click "Select none".
There is a filter box in which you can enter the shortcut name or part of it to quickly find the shortcut. Click the dropdown menu of "Show" to list all shortcuts, the valid ones or just the invalid ones. The info of the selected shortcut such as location, shortcut, target, etc. will be displayed at the bottom. Click "Properties" or double click the shortcut to open up the properties dialog box for the item.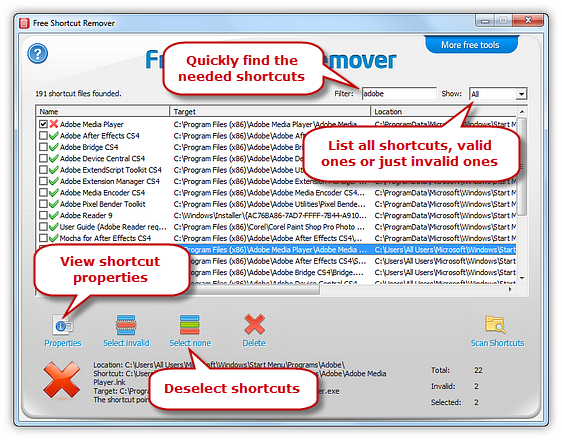 Step 3. Remove Broken Shortcuts
Click "Delete" to remove the broken shortcuts and they won't bother you anymore.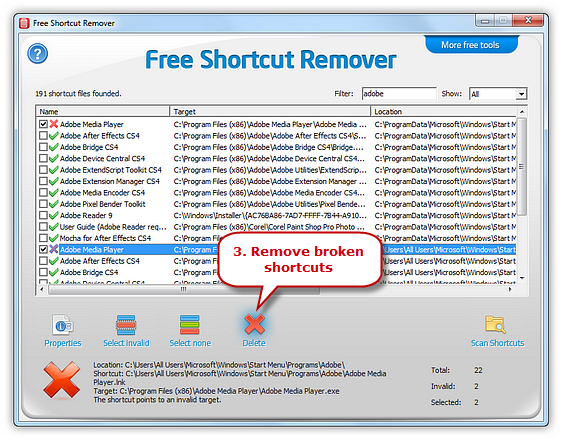 Please follow and like us: